Research & Partnerships

Friends of B.A.R.K.
B.A.R.K. is fortunate to have so many wonderful community partners that help to support its programs. View our list of generous sponsors and supporters.
Interested in becoming a sponsor? Contact Carol Willoughby at carol.willoughby@ubc.ca.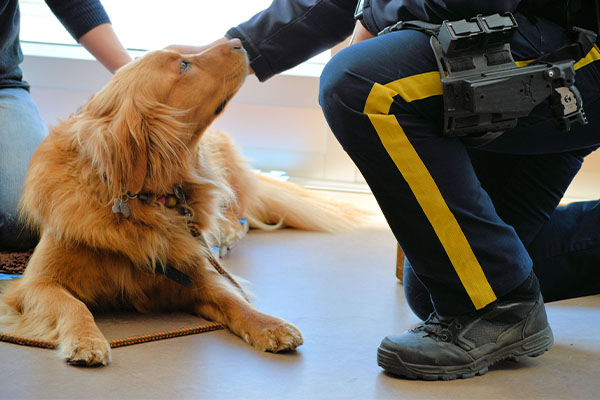 Law Enforcement Intervention Studies
In 2018, B.A.R.K. and the Kelowna RCMP detachment held a pilot program to study the impact of therapy dogs and stress reduction in law enforcement officers and staff.
Following the success of the pilot program, B.A.R.K., the City of Kelowna and the Kelowna RCMP detachment continued their partnership with B.A.R.K. hosting regular sessions for employees.

Okanagan Boys and Girls Club Study
Special workshop sessions were held in partnership with the Okanagan Boys and Girls Club. Each session began with a class discussion on the skills the children were to work on that day, followed by practice in a supportive, non-judgmental environment created by the friendly canines and volunteers. The final part of class had the children move outside of the classroom and practice their skills around campus with university students.
Publications, Presentations and Media
Find a compilation of publications, presentations and media associated with B.A.R.K. programs and research.
University Student Studies
After identifying a need for canine companionship on campus, Dr. Binfet with support from Ian Cull, UBC Okanagan's associate vice-president, students, began B.A.R.K. as a pilot program.
It started in 2012 with 60 students, 12 dogs and five student volunteers. Today, the program has grown to 60 dogs, 25 student volunteers and more than 4,000 student visits per year.